Product Display
12KW High Frequency tarpaulin/Tents welding machine
| | |
| --- | --- |
| Model: | HR-12KW-F1 |
| Scope Of Application: | Powered by high-frequency,Applied for tarpaulin, sunshading canvas, painting canvas, film curtain and relatives for automatic stepping welding and connecting |
| Features: | According to user requirements, select different high frequency power machine, the length and width of each camber welding material, can be adustable by changing the high frequency mould size lengthwidth,so as to meet the need of membrane structure or ca |
| | |
HR-12KW-F1High Frequency tarpaulin/Tents welding machine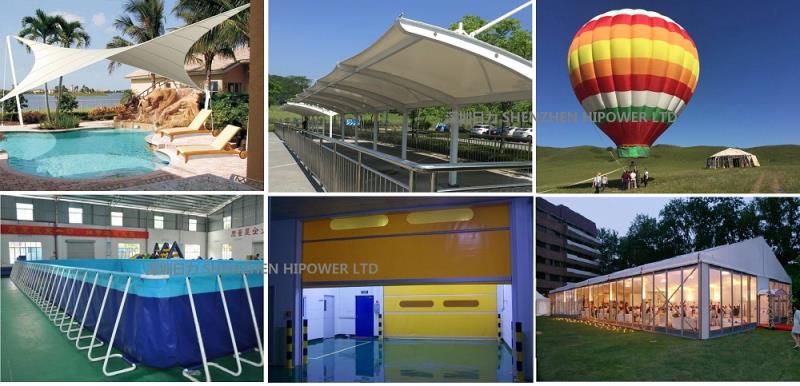 1. Large format technical textiles,
2. Large Covers for trucks and boats
3. Membrane Curtains for trucks
4. Large Swimming pool covers
5. Temporary shelters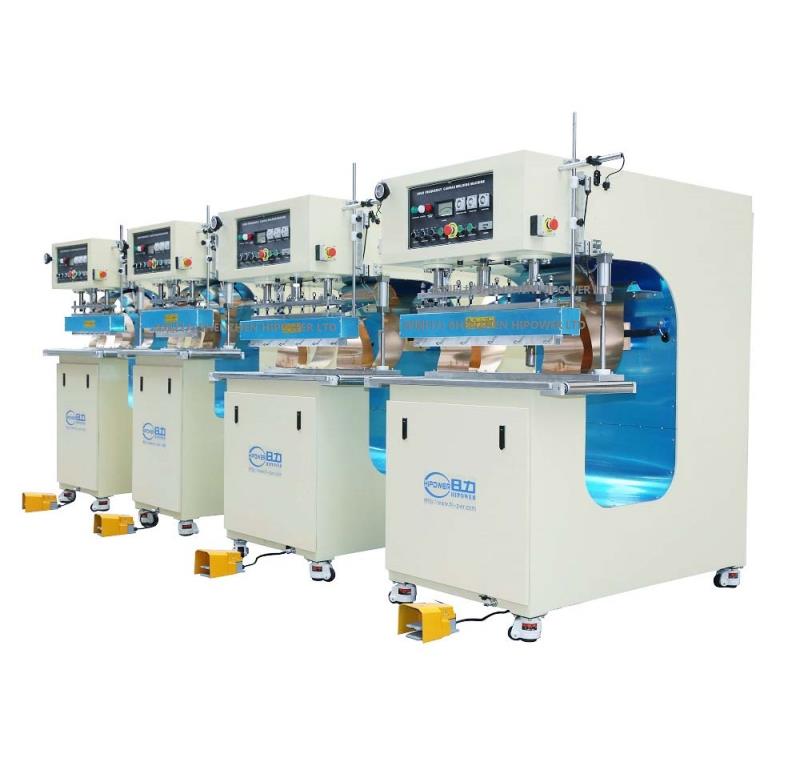 Our welders with power outputs up to 35KW and deep space behind the electrode provide advanced technological features for optimizing productivity and manufacturing quality.
Stabilized and smooth regulated HF generator provides efficient power for al linear welding up to 1500mm in length and 50mm wide.
All machines are completely safe for the operator and fully comply with CE regulations.
Machine Specification:
Model
HR-5KW-F1
HR-8KW-F1
HR-12KW-F1
HR-15KW-F1
HR-25KW-F1
Output Power of Generator
5000W
8000W
12000W
15000W
25000W
Anti-Spark System
U.S.A. NL-5557 High sensitive anti-spark system
Voltage
3P AC 380V 50Hz-60HZ or customize


Frequency
27.12MHz +/- 0,6 %


Input power
8KVA
15KVA
20KVA
25KVA
35KVA
Rectifier
SILICON DIODE


Oscillation tube
7T85RB
7T69RB
E3130
8T85RB
8T25RA
Max pressure
500KGS
500kg
800kg
1000kg
1500kg
Operation mode
Pneumatic Operated


Max gap of electrodes
150mm


Size of active horn
150mm


Upper Electrode (W*H*L)
50*50*600mm
50*50*800mm
50**50*900mm
50*50*900mm
50*50*1000mm
Size of Work Table (L*W)
350*700mm
450*1050mm
450*1150mm
450*1150mm
450*1250mm
Welding time
0.01~9.99s adjustable


Net weight
400KGS
800kgs
900kgs
1200kgs
1400kgs
Space behind electrode
400mm
750mm
Foreseen productivity:
According to welding times and operator skills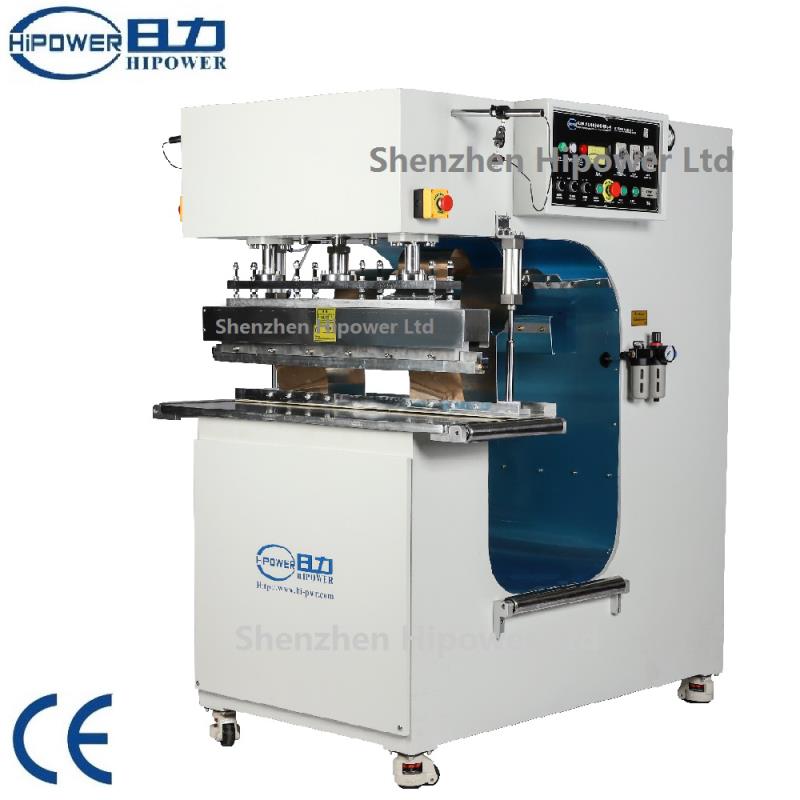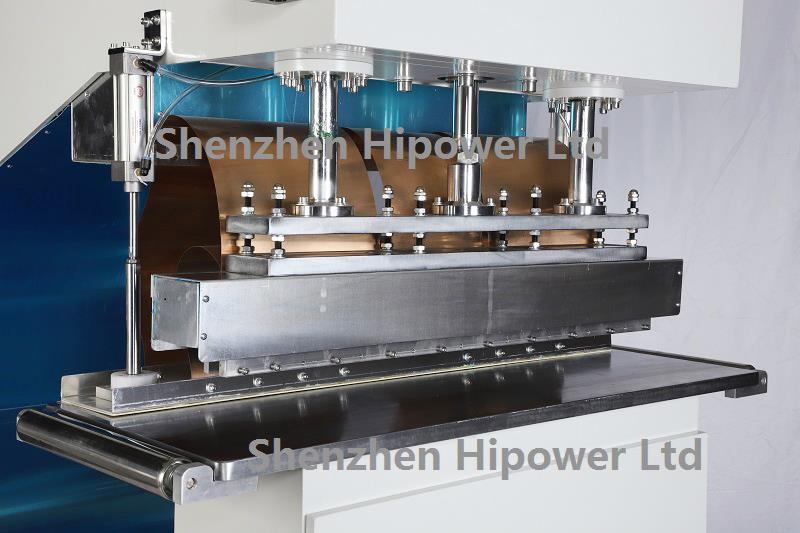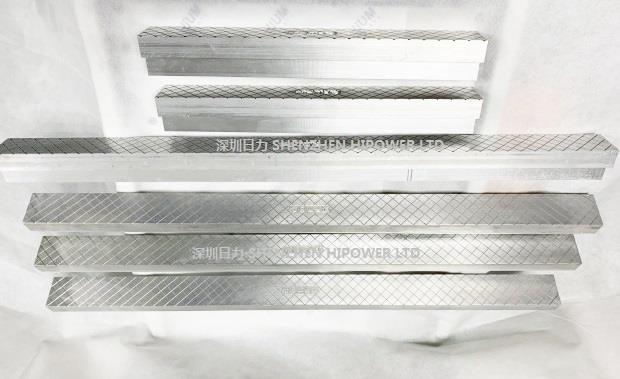 Machine General Features:
1. Length, width and radian of welding area can be adjusted by change welding die.
2. European-model square high frequency vibration box, more reliable and stable in output
3. Single line or two lines continue welding, welding length can be ordered as special need.
4. Can be used as a freestanding machine for welding production or as a supplement to a larger system.
5. CE rated machine; factory verified by SGS and BV;
6. Customer's site installation, training & maintenance available
7. Double Operator Control Press Pedals – on both sides of machine for ease of access and material positioning during welding of complex shapes of fabric
8. Online service by Email, Fax, Video Online- allowing remote live video servicing of basic setup and repairs through the use of face-to-face online video.
9.Customized work table dimensions, electrode holder dimensions, tooling
10.Laser Guide Projectors – projecting laser lines (easy for operator's eyes) for quick material guidance on the work table
11. High frequency welding press pneumatically operated
12. C-Frame / G frame welded steel structure with integrated HF generator
Optional Features on Request:
1.Servo-motor; Touch screen programmable HMI / PLC
2. HF Filter unit available
3. Auto-high frequency tuning technology
4. High frequency generator on separate cabinet
5. Large space behind the welding tool - up to1500mm
6. 12. Precision straight bar welding up to 1500x50mm
Application:
It is especially designed for HF welding of large format structural membranes, pool-liners, oil-booms, water cisterns, tarpaulin, tents,tensile structures, advertising billboards,spark protection cloth ,tent of truck, canvas of agricultural,canopy, swimming pool covers and other PVC/PU technical textiles, large PVC canvas/digesters/ fabric, computer advertising / printing/ Film cloth, the membrane structure, etc.